Home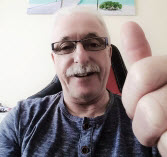 My name is Paul Carr and I come from Wales in the UK. If you are visiting Paul's Pages for the first time, a warm welcome it's very nice of you to visit.
I imagine you are interested in making an income online, yes?
Well, me too!
If you are completely new to the idea, I am around 15 months ahead of you. So, let me ask you a question:
How many mistakes have you made so far?
Without a doubt, I've learned a lot from the mistakes I've made since I started on this journey.
And believe me; there are many of them!
The thing is, you have to make mistakes to advance. If you don't try anything new your chances of making any progress or becoming successful are zero.  But, the good news is………  I've made a lot of your mistakes for you already!
Which means I can give you a big advantage and the perfect start.
Let me share every single mistake I've made with you.
I'll also share the knowledge I have acquired during the last 15 months.  You may not realise it now, but it will make a huge difference to you and your outlook on Internet Marketing.
It will also ensure you get ahead of the crowd and make some real progress right from the start.


Can you ride a bike?

Once upon a time, just like you and I,  the cyclist above needed stabilisers to stop him falling off. (Remember how scary it was the first time your Dad removed those little wheels that helped you balance?)
How long do you think it took this guy to master his trick? How many times do you think he fell and hurt himself before he was finally able to jump across all the poles?
I have quickly learned Internet Marketing is no different. If you intend to become successful at making money online you will have to practise, fail, fall and hurt yourself a few times before you finally get it right and feel comfortable in the saddle.
Are you up for the challenge?
During the last 15 months, I have discovered that if you challenge yourself and are prepared to listen and learn, building a viable online income follows the same pattern.
It simply takes time, dedication, study, the right mental attitude, and regular consistent focused action and practice.
It's not as hard as you think!
If you want to make it work, join me and let me help you understand it all.
I promise I won't guide you in the wrong direction, and I'll share the advice,  knowledge and only the essential tools you'll need to build your online business on solid foundations.